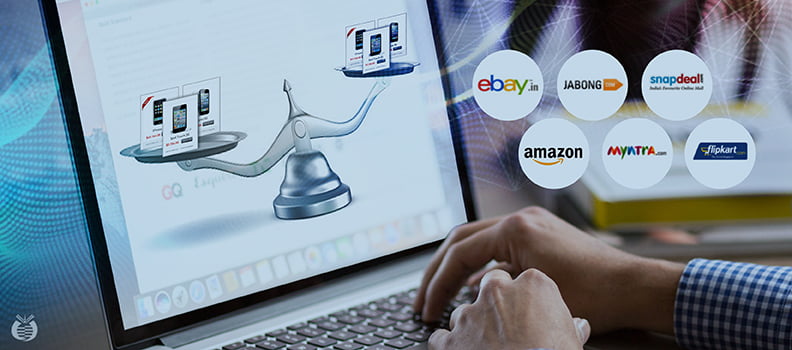 Build a Price Comparison Website
Price comparison sites
have become much popular almost immediately after the E-commerce revolution. The value proposition offered by the price comparison websites assists consumers to save a substantial amount of money while online shopping. The capability to check the price of a product on several E-commerce portals at one single place brings in handiness and saves adequate time. It provides a profitable business opportunity by drawing noteworthy revenue from affiliate advertising and sales.
Building a price comparison website
is not as easy as it sounds and needs technical proficiency and a consistent means of price data acquisition. We will make you explore significant steps in building a price comparison site
1. Choose a niche
The revenue perspective of a price comparison portal fully depends on its niche. Choosing the precise niche and targeting it is a vital part of making any winning website. You could also target correct geographies that have a higher demand for your products and related revenue potential to boost the traction further. Price comparison sites are more profitable when they work with focused consumer products. You might want to regard as the factors that affect the purchasing decision of products in a niche before entering into it.
2. Affiliate partnership
The most important revenue source of price comparison web portals is affiliate marketing. Most of the E-commerce portals have a powerful affiliate system by means of which you can get a commission for the online sales you make for them. To get initiated with this, you will first have to sign a business partnership agreement on admired E-commerce web portals that you will be utilizing for price comparison. Once approved as an affiliate partner, you will be given a referrer code or name that can be added to the different product links going out from your price comparison portal. Joining as an affiliate partner is a very simple procedure, which should not be a reason for any concern.
3. Technical Setup: E-commerce Price Comparison Software
This would be the most complex characteristic of commencing a price comparison website. There are diverse methods by which you can set up the price comparison software engine that would empower your comparison portal.
E-commerce price comparison software
will compare the different lists of products and related prices, providing precise market adjustments within an exact range. This requires superior data extraction software; DataCrops does this best match up to any other solution, as it is set-up with a centre on E-commerce price comparison.
Build it from base
Hiring a software company dealing with
pricing intelligence software
will be the best bet if you are demanding to make a price comparison software engine by involving your innovative ideas and their technical expertise. This would clearly be somewhat a costly alternative. However, the benefit of quality work and business results will be better if you hire an experienced price intelligence software company. They will have the proficiency to work with existing price comparison engines that might sync with your requirements. Developing a customized price comparison engine will consume more time and efforts. However companies like DataCrops build flexible
competitor price monitoring and price tracking software
which is an added advantage to build a price comparison website portal.
Price comparison software in the backend
If you don't want to invest in a price comparison engine build from the base, there are ready-made solutions that can fit your budget, time and enable you to quickly start with your portal. The only difficulty is that it might not accomplish all your business or technical requirements.
Web data extraction software
Now that you are ready to create and work with your own price comparison website, it's time to extract or acquire the required price as well as product data. Data being the prime fuel of any price comparison software engine, there should be a firm system in place to collect and load this data into your website portal. Web data extraction and
crawling technologies
are utilized to fetch or extract online product and price data from different E-commerce websites for real-time or near to real-time comparison. Also as the quantity of products will increase the scale of web data extraction need to be increased too.Price data can be attained by using web data extraction software which will come along with the price monitoring software set up when you opt the software from companies like
DataCrops
which provide end-to-end price comparison software tools.
Price comparison site management and maintenance
Since managing and maintaining a price comparison website is a challenging job, we advise going with a web data extraction service provider who also offers
price monitoring software
for the pricing as well as product data. It is vital to note that the overall quality of the information has to be of high-level accuracy for your price comparison website portal to run efficiently.
Key Takeaways
Going ahead with a price comparison site is not as problematical as it might look from outside. Once set up, data intelligence is the only thing you should concentrate on to keep the price comparison website lively and help in growing your business in terms of revenue.
Related Articles:
What is the Role of Competitive Intelligence in Travel Industry?
How Hotel Pricing Intelligence can assist Hoteliers yield more Profits?