Structured, organized and well built business information presented in the most productive style is needed in the industry. DataCrops extracts data from business directories, professional databases and comprehensive list of market information sources available as per business requirements.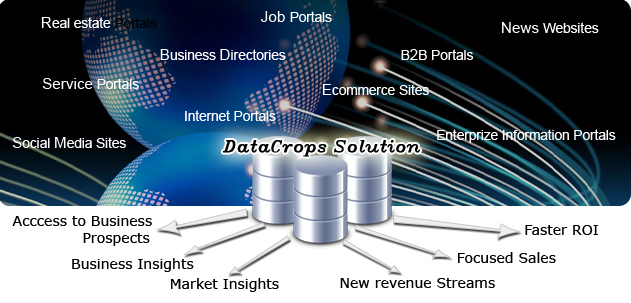 Extraction of Business Prospects
DataCrops taking an instance will help a recruitment agency, seeking suitable candidates from job portals or linkedin etc. where the information required may be in some other format. Sales & marketing department of any organization, looking for prospects to sell their products will always be helped by DataCrops to gain success.
Extraction of Organizational & Market Data
DataCrops helps in data collection with moving targets like personnel data of employees joined new organizations or have added new skills, the homes which were in market before have been sold out, the deals available in market & ending soon and much more..
Utilized in all Industries: e.g. Build data for jobs & recruitment, prospects for sales & marketing, collecting specified information from single or multiple data sources, etc.