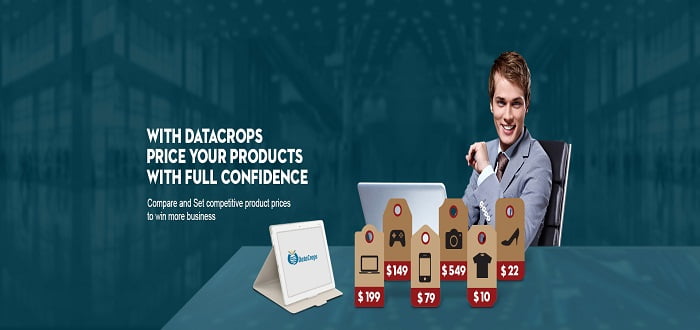 Ecommerce price comparison software
compares lists of products and related prices, offering exact market adjustments within a specific range. This needs commanding data extraction software; DataCrops does this best compared to any other solution, as it is set-up with a focus on Ecommerce price comparison.
DataCrops makes Ecommerce Price Comparison Easy
DataCrops
price monitoring software
offers absolute visibility into competitors' product assortment and pricing, empowering data intelligence to make profitable pricing and product related decision-making. Ecommerce site owners are opting for
pricing intelligence software
that has the capability to
extract pricing data
from required competitor sites.
E commerce price comparison websites
fetch thousands of products from
Amazon
and
Ebay
to overcome the burden of monitoring sites physically.
Going ahead of Competitor Pricing using E commerce Price Comparison Tool
Just having the
competitor's pricing
is one thing; while having a complete report of valuable information of your competitor's products and behaviour is another. Information like discounts, inventory levels, product category ASP, product turnover, new locations added, new items added and many other information points can be captured from an ecommerce website using
ecommerce price comparison tool
.
Transform Market Complexities into Business Opportunities
DataCrops solution pinpoints precisely where you require focusing, which includes selling price, customer reviews and product ratings of your multiple competitors. It offers:
Filter data points like price range, brand and ratings
Tag product groups like new releases and top-most sellers
Set up periodic alerts for price alterations, newer listings and market activities
Create custom reports to fit your formats and schedules
Marketplace reports for Amazon and eBay
User based reports like marketing, sales and pricing
Deal with your Product Pricing to Win Sales and Max Margins
DataCrops monitors
Ecommerce product pricing
every day from key competitor sites. It assists in strategizing your business by comparing different products for sales on periodic basis. It offers:
Dashboard showing the complete market details
Show highest, lowest and average pricing details
Build pricing rules based on profit margins
Access to historical pricing to uncover seasonality
Incorporate sales data to comprehend pricing impacts
Deal with price violations
Avail visibility in discounted products
Benefits of DataCrops as a Product Platform
DataCrops
uses its own scalable and robust product platform which extracts right information at right time and in right platform. This is especially beneficial while fetching bulk product information with details like the product name, pricing, item number, available product quantity, description, and other required details.Get in touch to learn more about our Ecommerce Price Comparison Software.
Request Consultation/Demo