DataCrops's Competitor Price Monitoring Software
Main Features of Online Price monitoring Software
Get competitor's product pricing: Online price transparency has made competitor price monitoring must
Have competitor's price comparison: Are we charging more or very less than an individual competitor?
Monitoring promotions: Online promotions are vital to attract consumers to stay ahead of the competition
Track competitive products: Find differences in your product and competitors' making offerings differentiable
Optimize product variations: Track which products variations are sold more in the market-place catalog
Find profitable products: Find profitable products in the market, to make informed decisions
Set automated pricing: Set prices enabling you to sell more, maximize profits and win customers
Automated Repricing: Raise, lower or match your pricing with competitors
Pricing Analytics: Analytics assist in positioning product and improving pricing strategy
WE TRACK YOUR COMPETITOR'S PRICES SO YOU CAN BE RELAXED TO FOCUS ON YOUR BUSINESS
Are your prices too high or low affecting your sales?
Are you are missing on revenues as you don't have a pricing strategy?
Are your competitors selling products you don't?
DataCrops monitors your competitors and make sure you have the right business answers.
About Price Monitoring Software
DataCrops Price Monitoring Software provides complete visibility into competitors' pricing and product assortment, enabling intelligence to make profitable pricing decisions. Online retailers are going forward for pricing intelligence software that has the ability to extract pricing data from their single or multiple competitors.Extracting thousands of products from Amazon and Ebay overcomes the pain or burden of tracking competitors manually.
DataCrops Software Enables
A) Product Intelligence: Enhance your products with competitive analytics to market and promote themB) Pricing Intelligence: Track, compare & analyze competitive pricing insights from competitor sites to improve profitsC) Dynamic Pricing Intelligence: Extract Competitive price adjustments in real-time improving product salesD) Repricing Intelligence: Extract, Transform & Load pricing updates from competitive portals and reprice on your own
Analytical Reports –
Product/Service/Channel-wise Pricing Reports
Business/Competitors Pricing Movement Reports
Pricing Analysis, Market/Region-wise Reports
Competitive Pricing Intelligence Process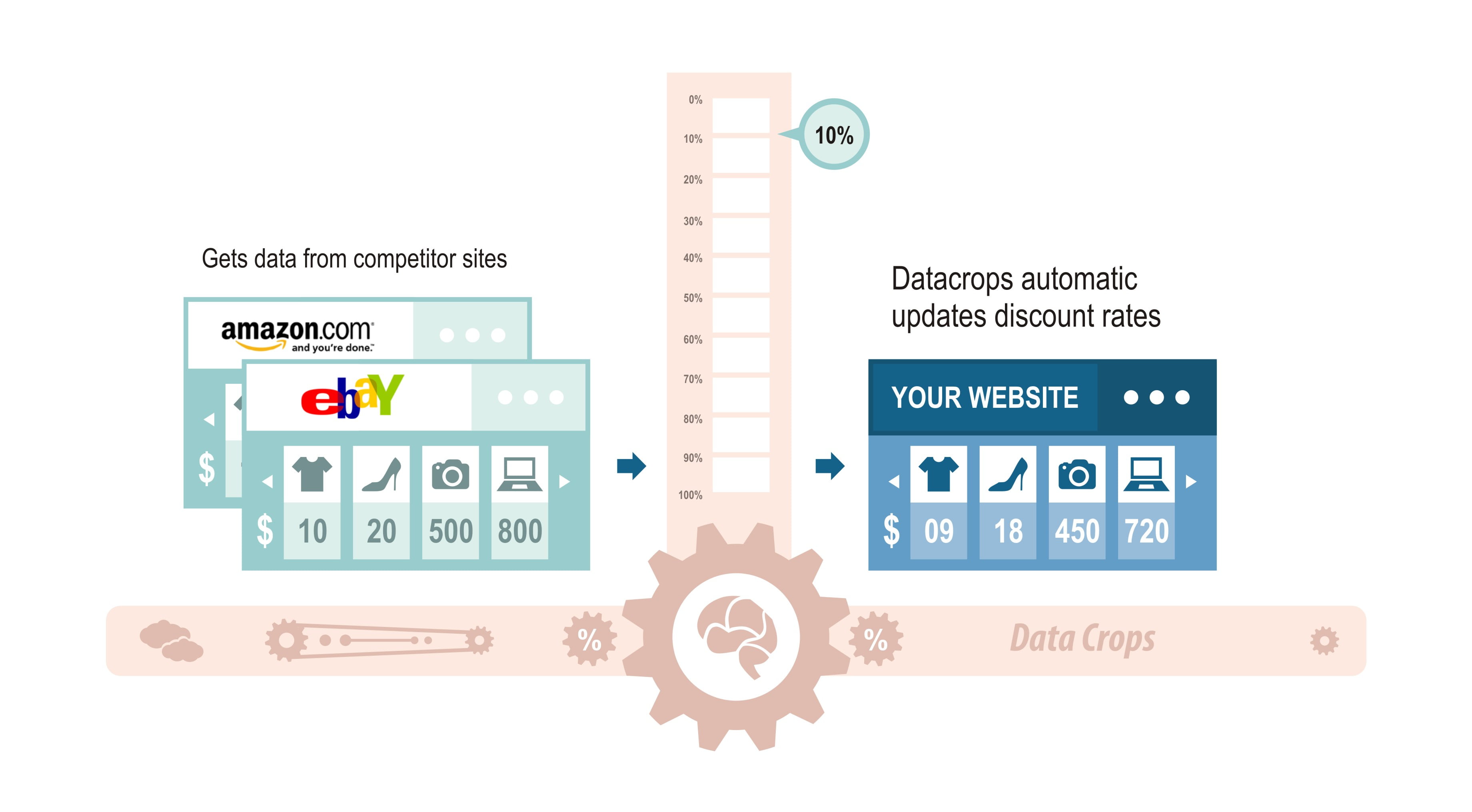 EXPLORE DATACROPS PRICING INTELLIGENCE CASE STUDIES
DOWNLOAD DATACROPS PRICE INTELLIGENCE WHITEPAPER
Take Your Initial Step To Outperform Your Competition And Market.