Organizations build intelligence, by availing information from web either manually or automatically regarding there own products/services, customers, resellers and distributors, partners and most importantly competitors. This phenomenon is termed as 'Online market intelligence'.
DataCrops for Online Market Intelligence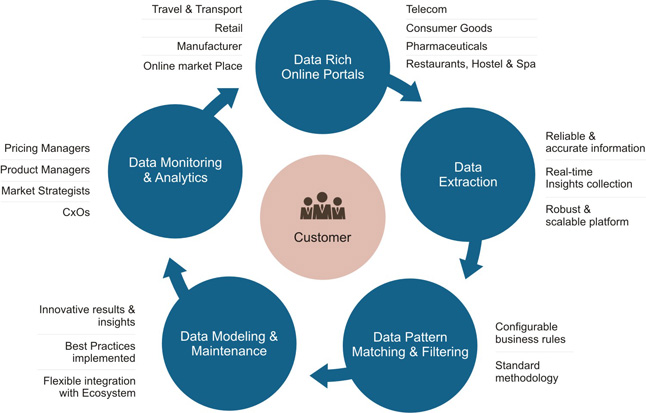 DataCrops platform for 'Online Market Intelligence' has been designed to effectively build market intelligence for the organizations, based on enormous data spread across web. DataCrops enables organizations to build their business by enabling pricing, brand & channel intelligence. Pricing Intelligence Solution – Champion the Online Marketplace Today selling online with the best price for every product is extremely challenging. Our data intelligence solutions extract best pricing for your products fetched from your competitor sites, market leaders & affiliate sites. Pricing Data Intelligence Process: Extract ? Beat ? Success
Extract

: the most comprehensive data, matching your product pricing needs

Beat

: reprice your products to beat your direct, indirect & future competitors

Success

: set prices enabling you to sell more, maximize profits & win customers
Brand Intelligence – Protect, Measure & Enhance
Challenges to your brand are always difficult to handle. Rather than reacting to it a proactive approach is better before the damage is done. Our solutions track and protect your brand, trademark, intellectual property, and global brand protection needs.
Brand Data Intelligence Solutions
Brand Protection

:Visibility & Reputation Tracking

Brand Measurement

:Data Metrics & Reports

Online Price Monitoring

:Resale Price Maintenance

Social Media Brand Tracking

:Mixed User Reviews

Online Media Content Extraction

:Extracting All Juice