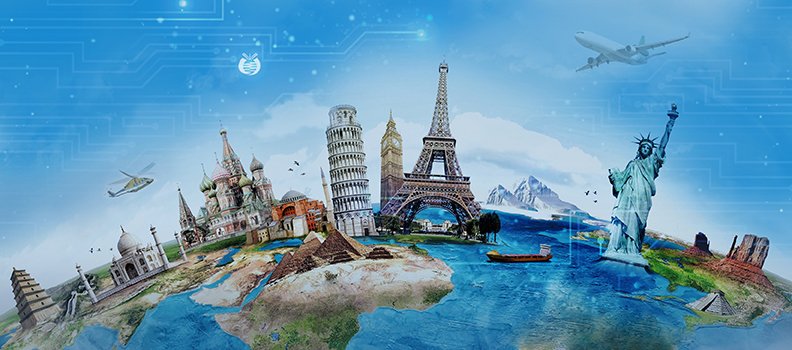 Importance of Business Intelligence in Travel Industry
It is known that technology has affected businesses as well as individuals to a substantial level both in for benefits and annoyance. The travel industry is no exemption. There have been adequate discussions on whether technology has promoted the travel industry or has damaged it more.
The Internet, technology software and communications tools all have made the travel industry processes more accessible for every player. Technology has brought effectiveness, mechanization, data intelligence and more business prospects. It has inserted an assortment of new things to cater different customer requirements, swift development, innovation in services and products to be offered in the market. Traveller data and business openings for new entrants in the industry call them the disruptors.
New business concepts backed with travel technology
Airbnb is a typical case; the conception of staying in people's homes during the travel is not a new idea and was done earlier. Technology has just enabled it by swift-moving and easily reachable global scenario. Technology and the internet have made data accessible to everybody easily. Having said that, what adds value to the traveller are applicable and planned insights from this data, assorted with the precise intelligence and insights from it. This is where the travel technology software comes into the picture.
Technology software playing a key role
Technology software tools have played an essential role of the driver of this transformation of coming up with the spot on traveller experience based on very explicit customer needs. Mobility, tracking, and monitoring of personal as well as social activities, especially predictive data analytics are what will influence the new business models and opportunities.
Needed technology actions by tour and travel companies to keep up with market competition:
Structuring of data
Real-time web data extractio
Social media intelligence
Price monitoring and comparison
Pricing and competitive intelligence
Data Intelligence and Analytics
This is not restricted to the gathering of data but also arranging it in a precise and structured manner to be further used for different business use cases. This will further augment the potential of managing non-structured data to take it into utilization.
Real-time web data extraction
Swiftness and freshness of the information sketch out its real worth. Today the value of data lies in its real-time extraction from single or multiple sources. Customers want all information instantaneously and updated with real-time comparisons. Thus, explains the increasing use of software tools of DataCrops like online travel intelligence which assists in understanding the overall market dynamics and the competitive pricing strategies.
Social media data extraction and intelligence
Social Media data extraction is significant as it assists in grabbing the expanding user-generated content that travel companies are interested in for product and service reviews, guest feedbacks, customer complaints, brand monitoring along with competitor and market trend analysis. It also comprises of extracting and analysis of tweets, likes, marketing updates, discussions, promotions, pictures, and images.
DataCrops Social Media Intelligence solutions are well capable of analyzing professional and social data along with actionable analytics packaged with social media data extraction.
Price monitoring and comparison
The price monitoring software offers complete visibility into competitors' pricing and product packages in the travel industry, enabling intelligence to make beneficial pricing decisions. The online travel industry is going forward with pricing intelligence software solutions that have the complete facility to extract pricing data from their single or multiple competitor web portals.
Pricing and competitive intelligence
With DataCrops competitor price analysis software and competitor price monitoring tools, travel companies can improve their price competitiveness, advance their competitor pricing analysis strategies and implement their pricing tactics successfully.
Data Intelligence and Analytics
With the understanding of consumer behavior through data intelligence and analytics, needed components like profitability and customer experience can be evaluated for travel and hospitality revenue management.
With all these advantages, users on both sides of this travel business cycle benefit. The booking engines and online travel portals are now more influenced by online research and price comparison. Tour operators can enhance their travel package offerings while completing their online reservations which they can enable with enhanced technologies, further capturing consumer insights as well as intelligence.
Key Takeaways
As per the travel companies, the expansion and progressions of technology have assisted them to augment communication, handiness, outputs, the swiftness of business, marketing and increase in overall revenue generation.
However, it has turned essential for traditional travel agencies to advance their business strategies in order to stay alive in the dynamically transformed travel marketplace. The modernized e-Commerce driven environment has made mandatory for these offline players to enhance their offerings with personalization and with efficiency to the current marketplace.
The traditional tour and packages operators will see additional evolution as technology is carrying on to advancements with every single day. As long as requirements for packaged tour and travel remain, there will be a space for travel companies as well as OTAs. DataCrops technology like Competitor Price Monitoring & Tracking Software for travel, flight, and hotel industry will go a long way in fulfilling this demand for the worldwide customers on both the business ends.
Related Articles:
How Hotel Pricing Intelligence Can Assist Hoteliers Yield More Profits?
Will Artificial Intelligence Substitute Human Intelligence In Pricing Analysis?