DataCrops Product Portfolio
Web Data Extraction & Data Processing
DataCrops with advanced web data extraction technology platform helps organizations easily automate their competitive and strategic decision making. It enables them with information for effective implementation of business strategies, improved service offerings and better product specifications irrespective of any Industry. It intelligently extracts information using a self-enhanced technology from multiple websites and complex data sources. It extracts data, transform and load it – ensuring the delivery of right information at the right time and in the right format.
DataCrops 5.0 Product Platform
Aruhat's DataCrops 5.0 is future ready web data extraction platform that converts data into business. Platform builds organizations to convert every opportunity generated by interactions in their business ecosystem. This enterprise grade platform connects with each component of the ecosystem to extract unstructured information and convert it into business insights.
DataCrops 5.0 Product Architecture
The platform is build on scalable architecture to plug N number of data sources and deliver data via multiple industry compliant interfaces to organization's IT infrastructure. The in-built intelligence engine provides competitive advantage to the organizations.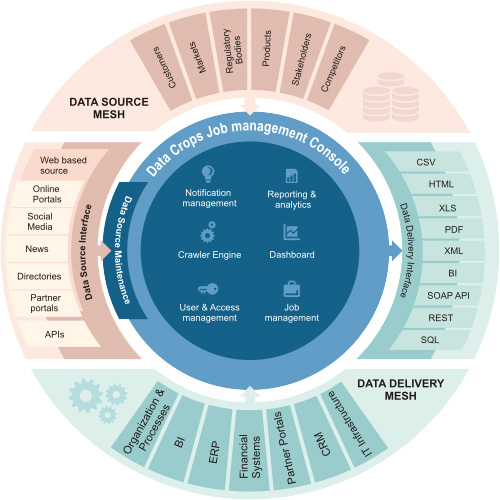 Product Highlights
Unified Platform for any Business Ecosystem
Integrated across Ecosystem
Single platform for insights from multiple components
Automated DataSource Maintenance
Deployment Variants

Product Features & Benefits
More powerful industry independent platform with delivery of pre-configured web data crawler flows – for extraction; dashboard & analytics interface
Strong platform providing interface to any web data source
Enrich, Transform and Load data to any platform
Enterprise Security and Maintenance modules manage data security and control
Hardware Independent – can be implemented and deployed on any standard platform
Check the DataCrops 5.0 Product Platform Brochure