Succeed over the top Amazon & eBay sellers.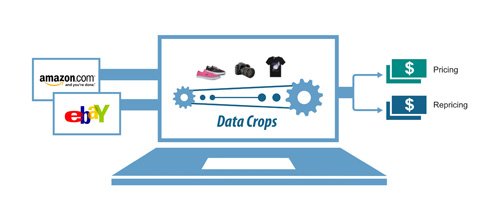 Online sellers know that pricing items properly is the biggest key to success. DataCrops Pricing Intelligence & Repricing tools automatically sets online competitive pricing and repricing on your online portal which can really boost your sales and add real value to your business and marketing strategy. Automatic Online Pricing & Repricing is a revolution that is transforming corporate world.
Extract, Analyze & Manage.
Extract & Set the most comprehensive data, required for your pricing needs. – Price Extraction, Analysis & Management
Extract pricing across all of your marketplaces
Fetch Real-Time competitor pricing data
Set your pricing rules for each market independently
Match, Analyze & manage your pricing
Set prices based on your cost
Pricing History for both you and your competitors
Multi-faceted product reporting system
Automate, Customize & Compete.
Automate Your Product Pricing to Beat Amazon and eBay's Top Sellers. – Automatic Repricing
Automatically reprice your items based on the competition
Maximize your sales without sacrificing your margins
Beat, match, or charge more than other sellers
Create multiple rules to make sure all your items reprice properly
Avoid decreasing profits and missing out on sales because of pricing
Automated alerts & notifications for repricing opportunity
– Customized Repricing Rules
Ground-breaking performance-based rules give you a competitive edge
With a comprehensive set of customizable repricing rules, your pricing can be tailored to every scenario, and greatly maximize your margins
Set your rules to change according to your traffic, time of day, sales performance and more.
Strategize, Win & Succeed.
Set prices that enable you to sell more and win over Amazon & Ebay. – Custom Pricing Strategies
Set min and max prices to avoid selling too low or too high
Keep your pricing strategies as simple or as advanced as you need them to be
Set different price margins for competing differently
Schedule your repricing as often as possible and quickly as possible
Adjust for product condition with repricing strategy
Beat the lowest price, match it, or set your price higher
– Benefits
Set prices that enable you to sell more and win over online customers
Achieve the ideal pricing structure to rise above the competition
Reach your target market and maximize profits
Set your pricing rules to maximize your sales & business reach
Beat the Buy Box or competitors against decided conditions
Set up rules to be more expensive than competition preventing profit erosion
Pricing and Repricing Reports & Analytics for business decision makings
Email at info@datacrops.com for more details